Because relatively little radioactive waste is produced in the Netherlands, and due to the specialist knowledge required, a decision was taken in our country to set up a single recognised organisation to manage all the waste at a single central location: COVRA. The waste needs to be managed until it is no longer radioactive or until a removal method has been applied which makes the risks for people and the environment negligible. All radioactive waste is safely stored by COVRA for at least one hundred years in buildings especially designed for this purpose. Ultimately, the waste must be stored in a deep geological disposal repository. This will ensure that even after thousands of years, the waste will remain outside the human living environment.
COVRA fulfils its role transparently, effectively and scrupulously. COVRA's role is laid down in legislation and regulations. The main framework is formed by the Dutch Nuclear Energy Act [Kew], supplemented by general administrative orders and more detailed ministerial regulations.
Our mission is to exercise permanent responsibility for Dutch radioactive waste in order to protect people and the environment.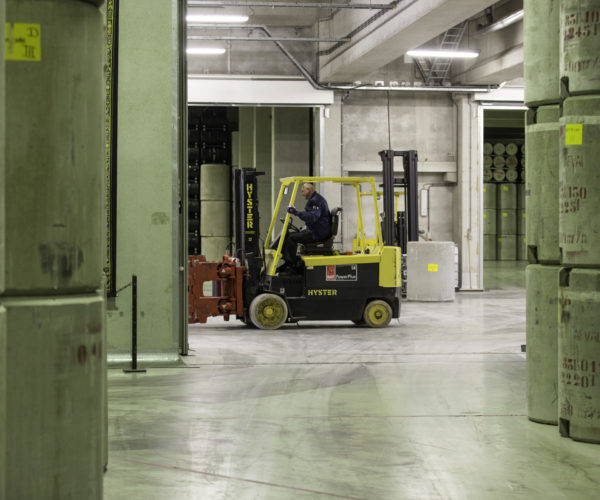 History
COVRA was founded in 1982 and grew to become the company with the practical responsibility of sustainably handling Dutch radioactive waste. During the first ten years, the organisation and the logistics for collecting Dutch radioactive waste were set up; a location was found for the business activities and all the activities of the temporary location in Petten were moved to the long-term location in Vlissingen-Oost. In the years that followed, facilities for processing and storing various kinds of radioactive waste were built and taken into use, and a stable and expert organisation was formed.
Tasks
COVRA has a small but well-equipped organisation, and the people and resources to collect, process and store all sorts of radioactive waste. COVRA's size is based on the organisation's tasks:
COVRA has the final responsibility for all the radioactive waste tendered. The waste to be processed is collected by COVRA. COVRA processes the low-level and intermediate-level radioactive waste into a stable product. The low-level, intermediate-level and high-level radioactive waste is stored by COVRA in buildings especially designed for that purpose. COVRA monitors and controls all the stored waste. The waste is meticulously described in COVRA's administration.
COVRA ensures that the radiation burden of the waste processing and storage remains within the fixed statutory norms. The guideline here is safety above all. All national and international requirements in the area of 'safety and security' are complied with and COVRA's facilities are periodically evaluated.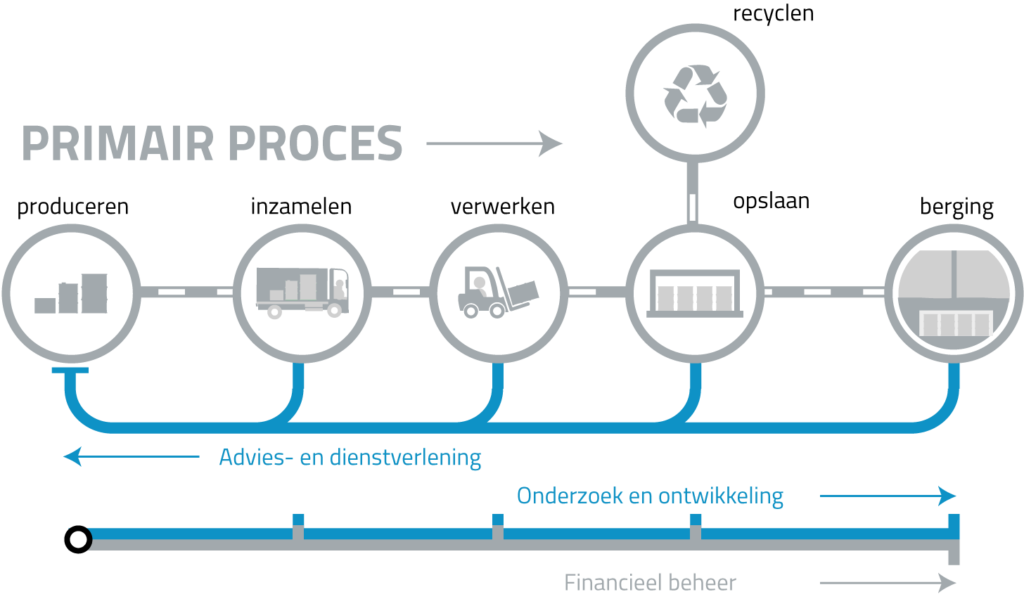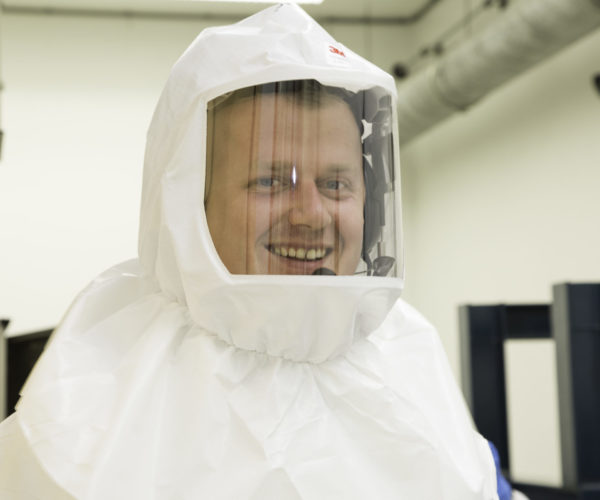 Policy
The government has determined the policy in consultation with the Dutch Lower House. Summarising, it comes down to the following:
Radioactive waste must be prevented from ending up in our living environment. In practical terms this means isolation, management and control of this waste. Because relatively little radioactive waste is produced in the Netherlands, and as it requires specialist knowledge, a single central facility is required for its collection, processing and storage. Moreover, a single facility (COVRA) is also preferable for financial reasons (cost savings).
All sorts of radioactive waste must be able to be stored for at least 100 years. Subsequently, the part that is still radioactive will be subject to deep geological disposal. During the storage period research will be conducted into possibilities for the geological disposal of the radioactive waste in the Netherlands or in a multinational context.
Strategy
The points of departure of COVRA's strategy are based on the storage of waste above ground for a long period (isolation), at a central location where it can be monitored and controlled to guarantee safety for a prolonged period (IBC principle, see the illustration), with the ultimate objective or realising a final solution for the waste.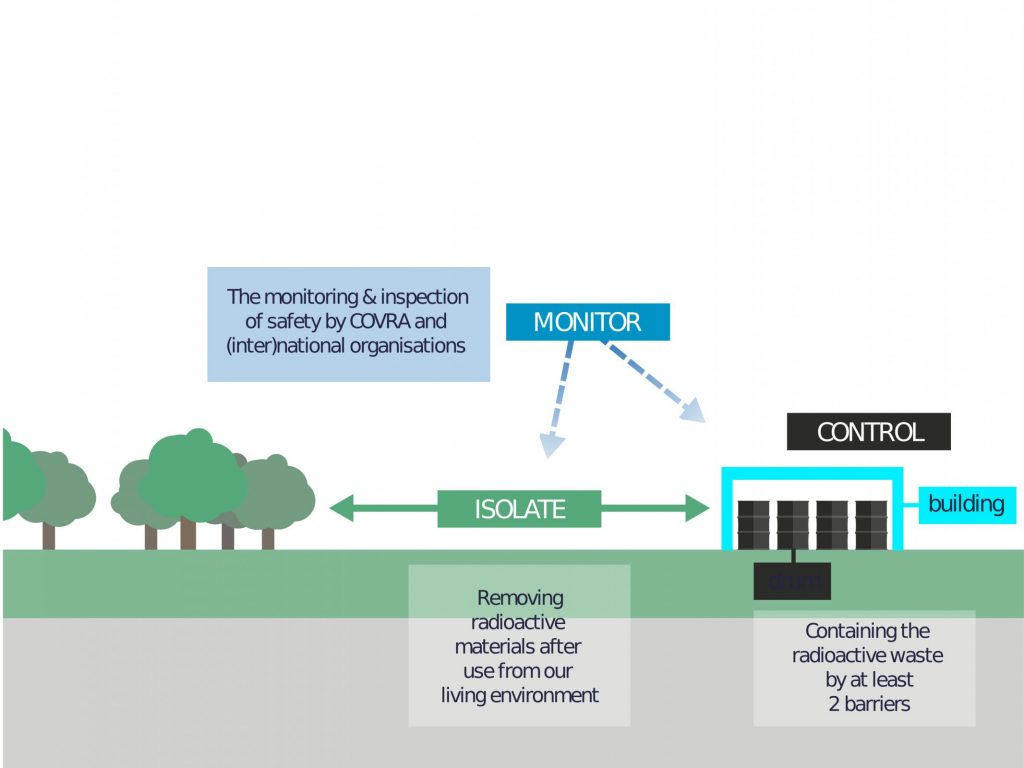 Ambition
COVRA's ambitions are:
COVRA is proud of what it does and enjoys showing off its achievements. COVRA is open and transparent where all its activities are concerned. It forms part of the local living environment.COVRA is a professional organisation. COVRA is fit, engaged, effective and service-oriented. The organisation aims to provide practical solutions for customers. COVRA aims, where possible, to improve its services.COVRA is the sole point of contact for Dutch radioactive waste. COVRA is a knowledge centre. It conducts research and develops and shares its knowledge.COVRA contributes toward drawing up Dutch rules for radioactive waste. COVRA considers it important to put its knowledge and capacity to use, also in the areas of national and international legislation and regulations concerning radioactive waste.